The Sex Chronicles: Masturbation 3 Pack Sex Stories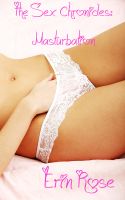 Warning! - 9000 words, all sex, all masturbation, all the time. Three of my hottest sex stories in one book! Each sex story contains a common theme - masturbation. The masturbation is either by self or from the sex partner. All of it extremely hot and sticky.
Extended description
This three pack includes:
Irish Pub-Jerk Off - watch as she tries to catch her Master off guard! We all know that doesn't work. He will get His way - in public! She'll stroke him at his command. This story contains a couple of mini scenes and one major scene.
Hooked Up With a Hottie - Waiting for him is the last thing she wants to do. But she will. Follow along as she imagines how the night will go. She'll go solo until he arrives at her door to finish the night. This story contains two scenes.
His First Night - Two lovers finally have their first night together. Couples masturbation, hot sex, and two scenes to keep you going.
Purchase your copy on
Smashwords.
 Amazon and Barnes & Noble coming soon!